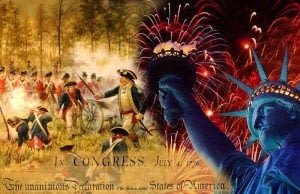 Source
Independence Day; the Birthday of our beloved Country, The United States of America, the Land of the Free, the Land of opportunity, sacrifice, travail and so much more! In June of 1776 we were in the midst of the Revolutionary War.  In order to proclaim their independence from Great Britain, representatives from the 13 colonies formed a decree, The Declaration of Independence.  The Continental Congress then voted in favor of  The Declaration of Independence, drafted by Tomas Jefferson, on July 2.  For two days revisions and edits were made to the document and it became official on July 4, 1776, our Nation's Birthday.
According to History.com, "On that day, John Adams wrote to his wife Abigail that July 2 (since the affirmative vote for the Declaration of Independence took place that day) 'will be celebrated, by succeeding Generations, as the great anniversary Festival' and that the celebration should include 'Pomp and Parade…Games, Sports, Guns, Bells, Bonfires and Illuminations from one End of this Continent to the other."
We as a Country, as individuals, families, friends, have so much to celebrate this Independence day and every day!  Professional Choice Insurance would like to wish all of you a very Happy 4th of July. Make sure to be safe out on the road and enjoy the incredible firework displays, lighting up our Nation's sky!