Professional Choice Insurance is teaming up with Stop Hunger Now!  We are humbled and honored to be apart of such an incredible opportunity to help those in need.  Please join us and you'll be entered to win a FREE $150 gift card.
"Since we were founded in 1998, we have provided over 180 million meals in 65 countries.This year, we will package 45 million meals, and ship over $9 million in donated aid, mainly vitamins and medical supplies.
Based in Raleigh, N.C., we operate meal-packaging programs at 19 cities in the U.S. and in South Africa, Malaysia, India, Italy and the Philippines.
We have engaged over 500,000 corporate, student, civic and faith-based volunteers in meal-packaging. In just under two hours, a group of 30 to 40 volunteers can package 10,000 nutrient-rich meals for the undernourished globally. We also educate volunteers about hunger and inspire them to help end it."
How to Enter Raffle:
Click here to donate any dollar amount, it does not matter how much.
Next, go to our Professional Choice Insurance Facebook page and tell us that you donated (please do not tell us how much), by leaving any comment (ie: I donated).
At the end of April we will put your name into a drawing to win the $150 gift card.
We will then send the winner their FREE $150 gift card!
If you would like to get further involved and help us package the meals we will be purchasing with these donations please come on April 25.  You can go to the donation page to find out where and what shift you would like to sign up for.  This is not necessary to enter the raffle, however we would love to have you!
Lets Stop Hunger Now Together!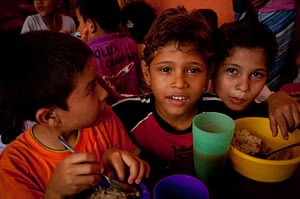 Source